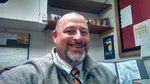 STEVE EVANS, MSA, NBCT
336-694-4212
Email
EDUCATION EXPERIENCE (27th Year)
- 2014 - Present: Assistant Principal at Bartlett Yancey
- 1993-2014: Social Studies Teacher and Coach with Person County Schools (19 years at Person High) - Head Baseball Coach and Asst. Football Coach
- 1990-1993: Social Studies Teacher and Coach with Caswell County Schools - BYHS - Asst. Football and JV Baseball Coach, Athletic Trainer
HONORS/AWARDS:
2006 - National Board Certified Teacher (NBCT), renewed 2016.
EDUCATION:
- Masters of School Administration (MSA) - NC A&T State University (2013)
- Bachelor of Arts in History (BA) - University of North Carolina @ Wilmington (1990)
FAMILY:
Wife - TJ Evans - Science Teacher - Pittsylvania County (VA) Schools (Married 25 years)
Daughter - Dee Evans - CTE Teacher - Person County Schools
HOBBIES:
Outside school I enjoy working in my yard, playing golf, travelling and spending time with family and friends. I also enjoy outreach and mission activities through my church.
I look forward to working with you, parents and students. I may be reached at (336) 694-4212 or via e-mail at steve.evans@caswell.k12.nc.us. Please feel free to contact me anytime I can be of assistance to you.