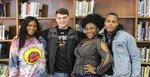 Senior Class Officers - Kaylyn Williamson, Davis Fowlkes, Shamyia Inge, & Immanuel Martin
The Senior Class Officers have come up with the PBIS Kickoff to Spring 2019: (February 4-8) BUCS WEEK: The objective of Bucs Week is to model the BUCS MOTTO and to see which teacher and class can decorate their doors the best by incorporating their interpretation of the BUCS Motto:

Be respectful Use your time wisely Come prepared and keep a Safe school
Teachers and their 3 classes will compete to create a door design that reflects the BUCS Motto and themselves professionally and personally as a teacher.
The criteria that the judges will be grading the design on will be as follows:
1) Relation to the BUCS motto.
2) Representing the personalities of the teacher.
3) Good use of materials.
Students will report to their powerblocks as normal, and they will be designing doors starting Monday and through Wednesday, February 13. Thursday will be the judging day, and Friday, February 15 will be the celebration for the winners.